Vision — Karen Goosic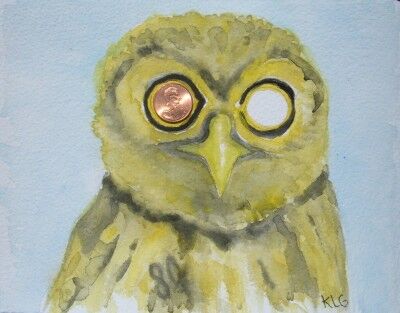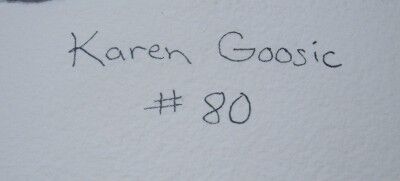 Inspiration / About the Art: Owls bring messages and some ways people receive messages are from Pennies…as Pennies from Heaven. In meditation, I sometimes have an Owl looking back at me…the eyes say so much.
Significance of the Number: The #80 was given to me to use and I wanted to have it hidden but seen at the same time, so I layered it into the feathers.
Materials: Watercolor
Size: 5 inches x 8 inches
About the Artist: Karen Goosic was born and has lived her entire life in AZ. She paints, gardens and hikes.
To see and learn more about Karen's artwork, you can explore her art Board called All Angels Art where she holds art auctions every few months under the name AZFlower. She has also created Love & Light Art Gallery in Facebook and gives angel readings.
Price: This piece is not currently for sale: There are great reasons to purchase Penny Experiment art. If you would like to purchase Vision #80 or other artwork from this 100 Penny Postcard Art series, please email me and I will put you on my list to inform when this series is for sale.