Put Your Money Where Your Mouth Is — Stacy Beck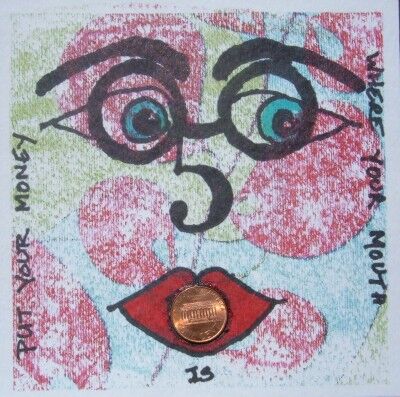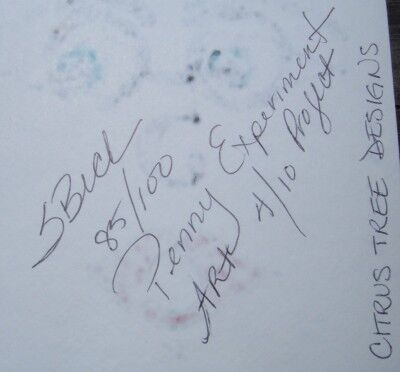 Inspiration / About the Art: I was inspired by the Penny Experiment as a whole. I have found that many people will talk about doing something to help others, but often don't actually follow through with it. Penny Experiment has shown us what it means to "Walk the Walk" — not just "Talk the Talk." Putting your money where your mouth is can come in the shape of not only monetary means, but time and energy as well.
Significance of the Number: The number was randomly assigned. I wanted a numbers that others weren't taking. I knew I could do something with any number.
Materials: The piece was created by transferring a design of mine using a process that involves an ink jet transparency onto a piece of thick textured watercolor paper. I then sketched out my design and used artist's markers to form the face/number design.
Size: 5 inches x 5 inches
About the Artist: Stacy Beck has had her work displayed in many galleries, her local art museum in Delray Beach, Florida, she has been featured on HGTV's Dear Genevieve and had her artwork used in various advertising campaigns. Her work has also been featured on many blogs and she sells her photographs and designs as stock photography. Stacy often sells her work under the name Citrus Tree Designs.
Stacy thinks of herself more as a photographer rather than a graphic designer, but she loves anything that has to do with design. Her art and her photography reflect her love of color and light. She comes from a long line of artists and she's currently working on a Masters degree in Fine Art. She loves her work and she feels privileged to be able to be a part of this worthy experiment.
To see and learn more about Stacy's artwork, you can explore her blog Citrus Tree Design blog and Citrus Tree Design Website. Stacy is also involved in designing children's clothing.
Price: This piece is not currently for sale: There are great reasons to purchase Penny Experiment art. If you would like to purchase Put Your Money Where Your Mouth Is #85 or other artwork from this 100 Penny Postcard Art series, please email me and I will put you on my list to inform when this series is for sale.