Unleash Change — Underground Concepts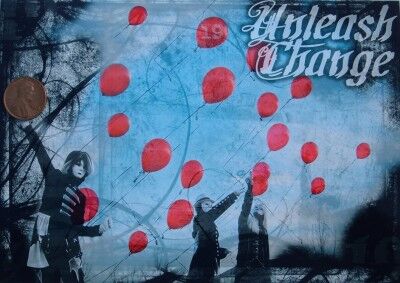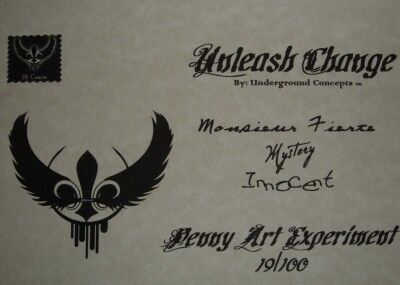 Inspiration / About the Art: The inspiration for this piece is that we humans and mimes alike need to unleash preconceived notions to change the world. The red balloons signify all the mental blocks and restraints being let go.
Significance of the Number: 19 is a rather small number in the spectrum to 100, which signifies that even little changes, and unleashing generosity, can have a massive effect.
Materials: We created this piece by taking a photo of 3 mimes unleashing 19 red balloons into a cold winter day, then amped up the contrast and other image effects. After that we transposed the photo onto a grunge background and then erased bits and pieces of the background to create what you see. All the manipulation was done in Photoshop.
Size: 5 inches x 7 inches
About the Artist: Underground Concepts are a troupe of actors hailing from all around Idaho and Washington who currently specialize and perform mime acts and shows. They combine the century old art of mime and mix it with modern miming, then combine theater, dancing, acrobatics, statue, staff manipulation and several other arts all into one to produce something completely unique. Their costumes strictly follow the black and white tradition of the mime and then take off on a whole new path adding in Gothic, Victorian, steam punk and military elements creating a character as unique as their performances. Underground Concepts appear in various places all around the year, so keep a watchful eye as they may be in your neighborhood next week.
You can learn more about Underground Concepts at their website UndergroundConcepts.net. You can also Follow them on twitter @Undrgrnd_cncpts.
Price: This piece is not currently for sale: There are great reasons to purchase Penny Experiment art. If you would like to purchase Unleash Change #19 or other artwork from this 100 Penny Postcard Art series, please email me and I will put you on my list to inform when this series is for sale.