It's always exciting for me to welcome a new couponer who has decided to participate in Penny Experiment because that means another person getting great deals for their local food bank. Leah who writes La Vida Cheapo is the latest couponer to join in this project and she did it with flair — purchasing $42.16 worth of food for $0.59 and a 99% savings off of retail price (be sure to visit her blog for other great saving money information). I think she summed her shopping trip up best:
So, by combining manufacturers coupons with sale items and store savings, I got 8 boxes of cereal, 4 boxes of granola bars, 5 cans of tuna and 1 box of pancake mix for what it costs to buy 1 can of tuna at regular price!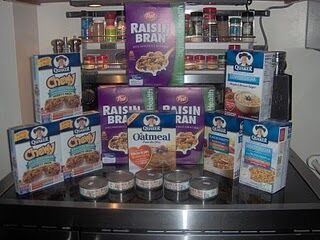 All of Leah's purchases will be added to the master list of all the food purchased for Penny Experiment. If you happen to be a couponer, we are always looking for more couponers to participate. We also greatly appreciate all those that decide to help in any way they can.
With Leah's latest purchase added, couponers have now purchased $759.02 worth of food for $73.56. One more small step toward the $1 million worth of food goal and $999,240.98 left to go…