Seeds Of Change — Brandi Crye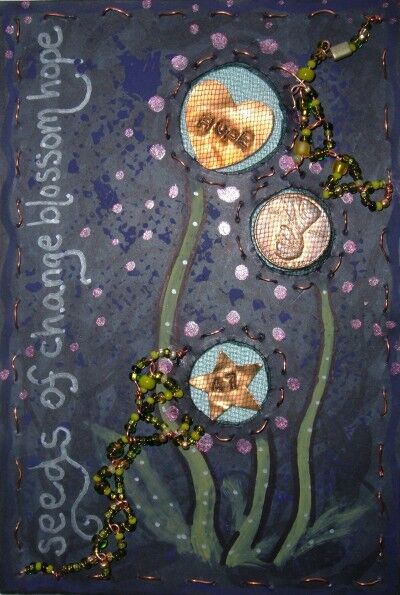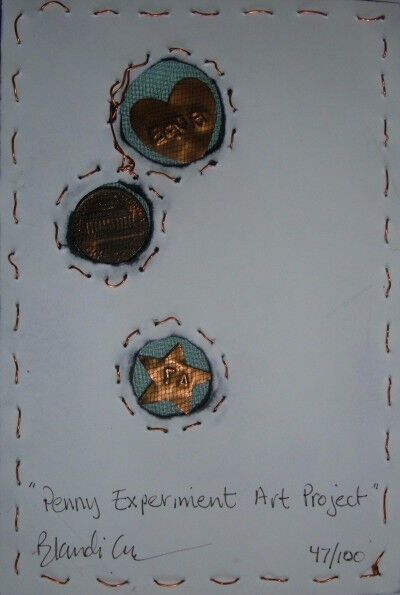 Inspiration / About the Art: I wanted to add elements of jewlery making to the postcard, that's where the wire and beads came from. The idea was for it to have a kinda sewn look to it. The penny I used I actually found in my hall closet the day I decided I was going to make the art piece (I still don't know where that penny came from).
The size of the postcard came from a star wars postcard that just happened to be on top of my computer. I knew from the moment that thought about joining this project that the piece would have flowers.
Truth is this project something personal for me. I know what it's like to have to rely on foodboxes.. To use soup kitchens. To rely on the kindness of others. Having been there it only makes sense to help now that I can. When I saw this project on twitter I was was like "that's an awesome idea, where do I sign up!"
Significance of the Number: A bad tattoo when I was 15. It was suppose to be 42 (I admit I'm a book geek!) but the boyfriend at the time got "creative" and the tattoo appeared to look more like the number 47. I have never lived it down even after I got another badly done tattoo over it! So much for trying to hide from my past.
Materials: cardstock, ink, paint, mesh, wire, beads, and copper
Size: 6 inches x 4 inches
About the Artist: Brandi Crye is an artist of many forms. Considered a "Crafty Queen" locally for all her designing. Jewelry, paper goods, and mixed-media art seem to devour most of her time in her small (and I mean tiny) apartment in Eugene, OR.
You can learn more about Brandi at her website Crye's Creations. You can also Follow her on twitter @darkworlds.
Price: This piece is not currently for sale: There are great reasons to purchase Penny Experiment art. If you would like to purchase Seeds Of Change #47 or other artwork from this 100 Penny Postcard Art series, please email me and I will put you on my list to inform when this series is for sale.