Point By Point — Peg Duthie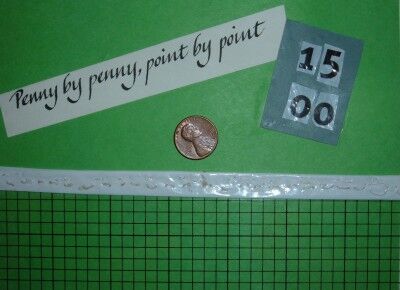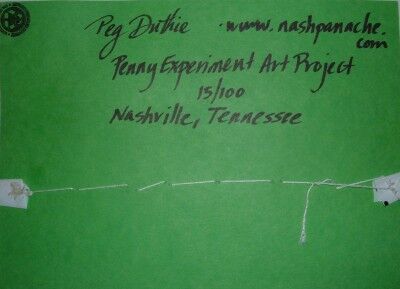 Inspiration / About the Art: Although I personally can't hit a ball for love or money, I'm mad keen on tennis.
Significance of the Number: In tennis, "15" is the first scoring unit of every game. That is, when two or four players begin a tennis match, the first point won is shown on the scoreboard as "15." (The second point is shown as "30" and the third as "40." Tennis math is pretty strange.)
Put another way, when a tennis match gets underway, the first action reported on the scoreboard is "15-00" or "00-15."
There are a whole host of analogies one could draw between constructing a tennis victory point by point and, say, raising money for food penny by penny. One of the challenges of the project was coming up with a text to make this point (so to speak) that wasn't too cheesy.
Materials: Sumi ink, watercolor paper, file folder, a thick plastic transparency, a thin plastic shopping bag, thread. You can see a photo diary of the process.
Size: 5 inches x 7 inches
About the Artist: Peg Duthie is a Taiwanese-American, a member of the Nashville Calligraphers Guild, and a mail junkie. Her recent commissions have included lettering the mission statement of the Unitarian Universalist Congregation of Cookeville.
To see and learn more about Peg's artwork, you can visit her blog Chrysanthemum: the scissors hesitate a moment and explore her website at NashPanache.com.
Price: This piece is not currently for sale: There are great reasons to purchase Penny Experiment art. If you would like to purchase Point By Point #15 or other artwork from this 100 Penny Postcard Art series, please email me and I will put you on my list to inform when this series is for sale
//picasaweb.google.com/lh/photo/WtYCVxKUUqtOb34IduWqSw?feat=directlink