Heaven Cent — Noreen Berlier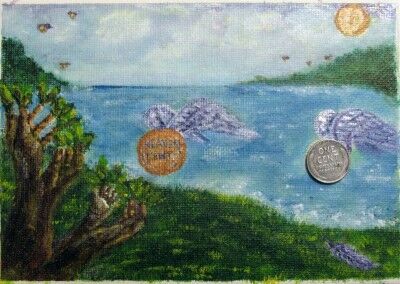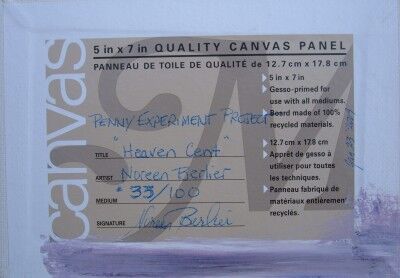 Inspiration / About the Art: Having learned about the Penny Experiment Art Project a bit late, I found that all of the 100 numbers had been assigned to artists. Yet, I remained hopeful that being on standby might somehow yield a small miracle, and I set my heart on number thirty-three, as that has been my favorite number for as long as I can remember.
After spending the evening with a group of spiritually minded friends in meditation, I came home to the news that there had been a cancellation, and against logic and the odds, number 33 was mine! Feeling deep gratitude and compassion for the artist that was unable to participate, I couldn't help but also feel quite blessed for the opportunity to participate.
A "pennies from heaven" theme was my first idea, and with the thought of having one penny bring exponential nourishment to those going hungry, the singular "Heaven Cent" inspiration was born. Then I found the steel 1943 penny. With the idea simmering, and now having a number to incorporate, the single cent evolved to 3 times 3, with the winged pennies bringing love and bounty to lands near and far.
Steel pennies were in circulation in 1943 due to shortages of copper in the US, and in that year, America saw its first rationing of canned food, meat, cheese, butter and cooking oils. However, due to World War II-related employment, 1943 also marked the end of the Great Depression.
I also loved discovering that one of the popular films in that year was "Heaven Can Wait"
Significance of the Number: This number, aside from being a personal favorite, appears to be significant in religion, as it is believed that Jesus performed 33 miracles before he was crucified at the age of 33, making that the 33rd year of the calendar we now use. In numerology, 33 is one of the master numbers.
And going back to the "Heaven Cent" theme, and Doreen Virtue's book, "Angel Numbers" I was tickled to find that number 33 can mean that — "Many ascended masters have come to help you with your mission and to answer your prayers."
Which couldn't be more appropriate as this piece of art is created with the intention that many are able to be nourished by the Penny Experiment, in more ways than could ever be imagined.
Materials: Acrylic on canvas panel
Size: 5 x 7 inches
About the Artist: Noreen Berlier is currently living and working in the bay area near San Jose, Ca. While she enjoys her work, her true passion has been opening to artistic expression, combined with spiritual awareness, and writing, and of course sharing this amazing journey with fellow soul travelers.
To see and learn more about Noreen's artwork, you can explore her website at Breathing In Spirit.
Price: This piece is not currently for sale: There are great reasons to purchase Penny Experiment art. If you would like to purchase Heaven Cent #33 or other artwork from this 100 Penny Postcard Art series, please email me and I will put you on my list to inform when this series is for sale.