Penny For Your Thoughts Book number 16 has been launched into the wild. Here is the explanation on how the process of launching it took place: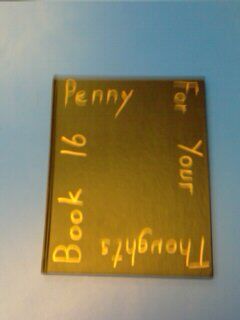 When starting the book I had a difficult time finding a marker that would write on the book! I finally took a bucket full of various markers from the supply closet at church and sat down to make rows of hearts on the back, checking to see if any of the markers were visible and didn't smear off when dry. I finally found one brand that worked, and several colors. I settled on a 'penny colored one'. It really is almost the right copper color of a slightly dirty penny..

Then I had the paralyzing trouble of how to make a penny on the cover, there was this nice open space on the front just perfect for a penny. But not being artistic I just couldn't even attempt one. My daughter offered, but the paint was 'smeary' when wet, and she was wearing a good shirt.

I also realized my handwriting is terrible! How on earth was I going to write all that was needed in the front so folk could read it? I begged every other person at the co-op to help me write part of it, so our book has all the loving handwriting of 5 moms!

We told the kids the story and let them each design a page or part of a page. All the kids thought it was an awesome idea. Some of the Moms put in words or art of their own.

When we finished our part, I had to choose someone to give the book to. I have so many wonderful friends who would be perfect, it was a hard choice. Everyone I have mentioned the book to thought they were neat ideas (several choosing to start their own books). I finally settled on Mrs Jenn from our church nursery. She is creative and very good at putting thoughts into words, so I knew she would make the book much more interesting than I did. — Guinevere
I loved the story of the launching of this book because it reflects many of the lessons that I have been learning since beginning Penny Experiment — that finding solutions to problems that arise can usually be solved with a bit of creativity and the help from some friends. I'm happy to have another book that has started it.s journey and can't wait to see it when it eventually makes its way to me.