Create Change — Cindy McMath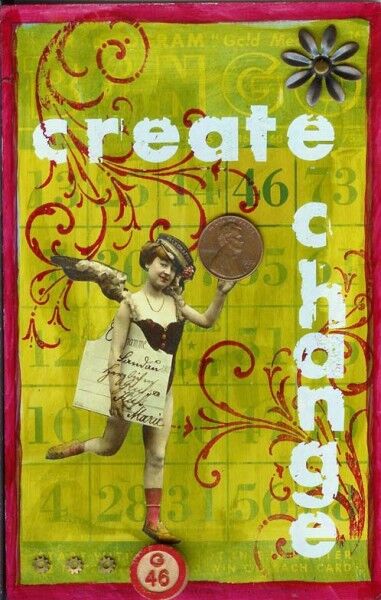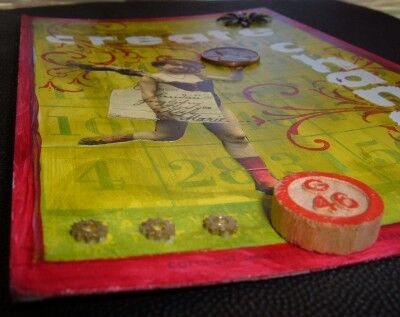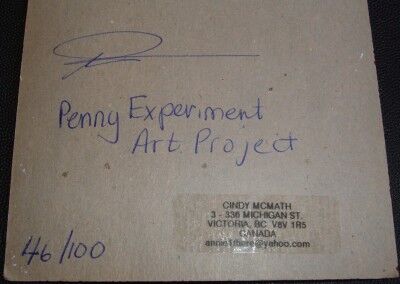 Inspiration: We have the ability to create change for the better in the world around us. The Penny Experiment is a great example of this.
About the Art: I've used a magical-looking letter carrier as the main image – a nod to my love of mail art (and fitting for a mail art project).
The significance of the number: I chose the number 46 – my age if you must know!
Materials: I used a vintage bingo card as my substrate (my favourite postcard material). I covered it with a thin coat of gesso, but I masked off the number 46 so it would stand out a bit. I painted the prepared card with fluid acrylics, stamped flourishes with permanent ink and then adhered the collage elements. A vintage rub-on alphabet was used for the words.
Size: 6 inches x 8 inches
About the Artist: Cindy McMath lives in Victoria, BC Canada. She has dabbled in many art and craft forms, but it was paper arts that "stuck" after she made her first set of handmade Christmas cards in 1989.
With a busy day job, Cindy does not normally sell her work; however her work has been published in a number of books and magazines, including "Somerset Studio", "Collaborative Art Journals and Shared Visions in Mixed Media", "Cloth Paper Scissors" and "Artist Trading Cards, an Anthology of ATCs".
If you're curious to find out more information about Cindy's artwork, you can visit her personal blog at Pink Bird Studio and her gallery at Picture trail
Price: This piece is not currently for sale: There are great reasons to purchase Penny Experiment art. If you would like to purchase Create Change #46 or other artwork from this 100 Penny Postcard Art series, please email me and I will put you on my list to inform when this series is for sale.