Penny Gift — Janet Heritage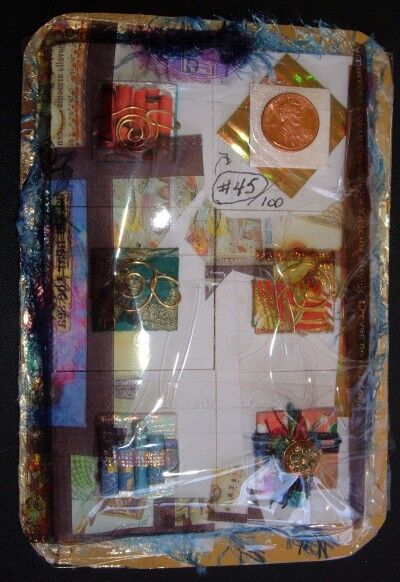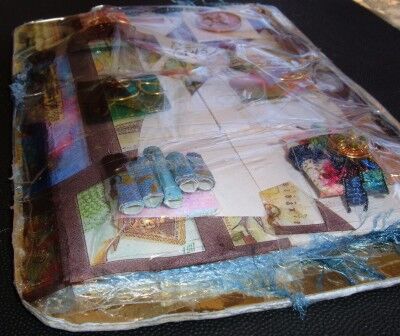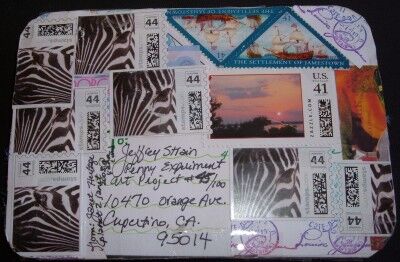 Inspiration / About the Art: I am a "mail artist" (occasionally) and what I have tended to do is find someone (a friend or relative) and kind of focus on sending them a whole bunch of cool stuff in their mail box all at once (or whenever the spirit moves me) Just fill the mailbox with cool, gorgeous artwork.
It makes me feel good to know that my mail art "RAK" (Random Act of Kindness) can really change the way a person feels about their day because when they go to the mailbox, instead of finding a bunch of junk mail and bills, they instead find all this magical artwork that has been made especially for them.
Size: 6 inches x 8 inches
About the Artist: Janet Heritage is a mixed-media /assemblage artist. She was born and raised in Seattle, and currently lives on the outskirts of Denver, Colorado with her husband, Tim, and her 2 rescued/shelter puppies, "Star" and "Blueberry."
She has been in love with the arts in one way or another all of her life. After securing her degree in communication, she sang professionally in nightclubs, acted onstage in and with a touring children's theatre group, and was an actress in many television commercials. She then travelled to England and France, and it was there that she found her love of the visual arts begin to surface.
Since then, Janet's artwork has been framed, exhibited, published and recognized by both private and corporate collectors. She is drawn to the emerging book arts movement, and has taught workshops on creative art techniques, journal writing and altered bookmaking.
She loves to play with bright colors, rich textures and found objects. Her studio is chalk-full of inspiring art supplies and she is never happier than when she is creating. Lately, Janet has been kind of a "green queen" and has been challenging herself to use materials that are otherwise destined for a landfill. She scours garage sales, flea markets, and antique malls for ephemera, vintage jewellery, and beautiful paper.
Price: This piece is not currently for sale: There are great reasons to purchase Penny Experiment art. If you would like to purchase Penny Gift #45 or other artwork from this 100 Penny Postcard Art series, please email me and I will put you on my list to inform when this series is for sale.