A Girl's Best Friend — Kelley Wise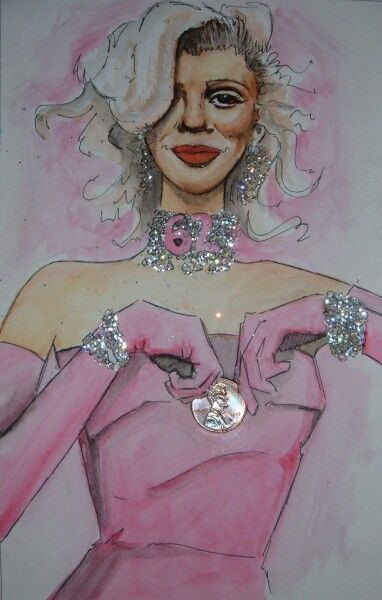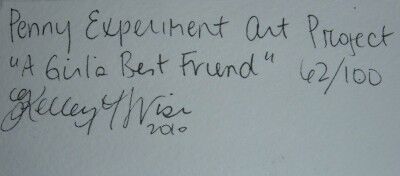 Inspiration / About the Art: When I first came across Penny Experiment, I immediately wanted to do artwork featuring Marilyn Monroe. I'm not fully sure why, except that it possibly had to do with how iconic she is in American culture (an probably worldwide as well). I thought it fitting to match her up with another well known American symbol — which is, of course, the penny.
Originally I hadn't intended to tie in the "Diamonds Are A Girl's Best Friend" angle, but as I started to plan out the actual piece, things fell into place differently than I had planned. I settled on the "Diamonds" outfit because I liked the juxtaposition of the diamonds and the penny. I figured it was a pretty decent symbolism for this project as a whole.
Significance of the Number: I picked the number 62 because 1962 was the year Marilyn Monroe died. I chose that year instead of 1926 (the year she was born) because I think more people today can connect better to (or remember) the 1960s. That time period is also well known for being all about love and compassion for other people, even during a time of crisis. I can see the parallel between that time period and now, so I wanted to attempt and communicate that every dark cloud has a silver lining and humanity can do great good — there is always hope.
Materials: pen, watercolor paints, glue and glitter.
Size: 5 inches x 8 inches
About the Artist: Kelley Wise is a 24 year old Floridian and largely self taught artist in various mediums.
In early 2008, she was diagnosed with schizoaffective disorder (a form of schizophrenia with — in her case — a co-morbid diagnosis of depression). She experienced a psychotic breakdown during that period and was hospitalized later in the year. Her ability to create artwork (or do anything, really) diminished greatly during this period and she feared that she'd never be able to draw or paint again. Obviously, she overcame that issue.
Kelley is currently working again and taking college courses. Her treatment and recovery taught her much about the resiliency of the human spirit and it's her hope to inspire others to see the strength inside themselves and others. She hopes to eventually work in psychology in the future, particularly in branches that deal with children and young adults.
You can learn more about Kelley's artwork on her deviantart page Kelley-Michelle. You can also see her writing on her mental illness blog about living with schizoaffective disorder at From Despair to Where.
Price: This piece is not currently for sale: There are great reasons to purchase Penny Experiment art. If you would like to purchase A Girl's Best Friend #62 or other artwork from this 100 Penny Postcard Art series, please email me and I will put you on my list to inform when this series is for sale.