On Thursday, we packed up the car: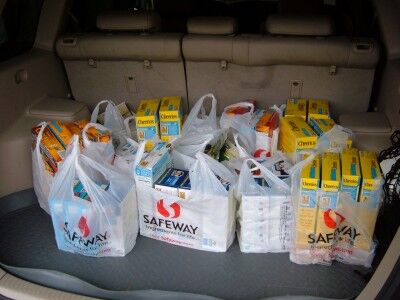 and made our second food bank trip to Open Heart Kitchen: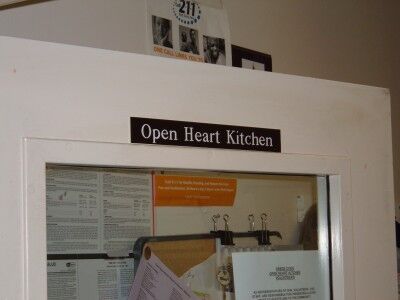 Where we delivered the food Open Heart Kitchen's food storage area: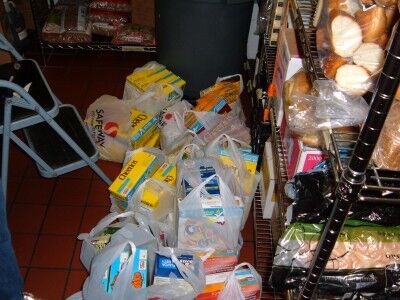 While there I met with one of the volunteer coordinating directors of the Open Heart Kitchen program and explained what Penny Experiment is doing and how we use of coupons to get deals on food. He was intrigued and asked me to sit down and talk to him about it.
What I learned was that there were a lot of groups that wanted to volunteer to help the food bank, but wanted to be able to do so from home instead of having to come down to the food bank to volunteer. We both agreed that setting up a "coupon" program could be a good way to use these people that want to volunteer, but the food bank has not been able to utilize well in the past.
One of the big limiting factors when it comes to getting coupon deals is that it is tough to get a large number of coupons for the great deals when they are available. Most Internet coupons are limited to printing one or two coupons per computer. Creating a mass of at home volunteers that were willing to print out these coupons for the food bank to use could make it much easier to secure great deals in large quantities.
While we are still in the planning stages, the basics of the plan have been worked out. There will need to be a volunteer coupon coordinator who will look at what deals are available each week. When a good deal is found that the food bank can use, the coordinator will send out an email to the volunteer list to print out the coupons needed. We are still working on the best way to collect the coupons. Once collected, the coordinator will go to the grocery store with all the coupons and make the purchase saving the food bank money and stocking them up with that particular items for months.
Once we get it going and work out the inevitable kinks that go along with it, we hope to be able to pass the information on to any food bank so that they can easily set up the same coupon saving program to help fill their shelves. While none of this will count directly toward the Penny Experiment $1 million worth of food goal, it is a far more powerful extension that could ultimately feed a lot more hungry people in the US. I will definitely make updates as this progresses and is put into action.