3 Holds 6 / All Holds 1 — Shelley Miller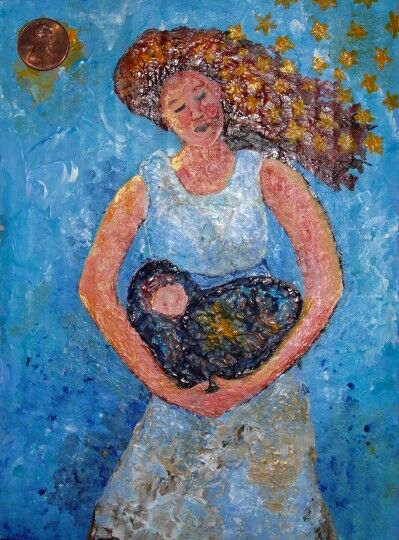 Inspiration / About the Art: I'm not a big believer in astrology or numerology, but I love the imagery and stories they contain. I researched the symbolism of the number 36 and the following grabbed me :
* According to R. Allendy, it is the ratio of the individual Karma, 6, to the organization of the Universe, 30, and the cosmic solidarity which results from it in the natural cycles.
* J. Boehme associates it with the "angelic world" because it is the sum of the eight firsts numbers. In the other words, it is the number of the sky.
* The Chinese astrology counts 36 beneficial stars and 72 malefic stars, their sum gives the sacred number 108.
Significance of the Number: The mother's head, neck and left arm form a "3" (universe). The blanket wrapping the baby forms a "6" (individual). The stars are the 36 beneficial stars.
Materials: Cardboard, ink, acrylic paint
Size: 5 inches x 8 inches
About the Artist: Shelley Miller is a performing songwriter and music teacher based in Chicago. Her third CD, When It's All Gone, You Come Back, will be released March, 2010. When not playing music, she can often be found taking pictures or riding her bike…singing.
To learn more about Shelley's work at ShelleyMiller.net. You can also find Shelly on Facebook and Myspace
Price: This piece is not currently for sale: There are great reasons to purchase Penny Experiment art. If you would like to purchase 3 Holds 6 / All Holds 1 #36 or other artwork from this 100 Penny Postcard Art series, please email me and I will put you on my list to inform when this series is for sale.