Wishing Pond — Helen Kaelin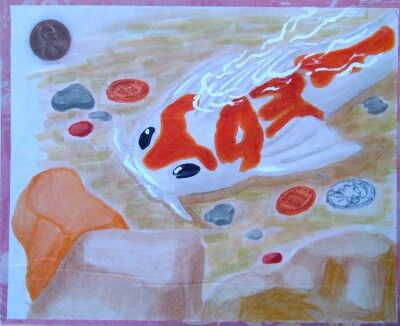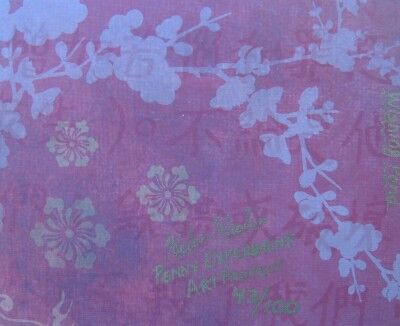 Inspiration / About the Art: My husband and I travelled to Tokyo last spring. On our first day we went for a walk just to try and get a feel for such a crazy and alien culture that was so thoroughly overwhelming us. Working on 14 hours of jet lag, we were having trouble processing all of the noise and motion, which drove us to a small park in Shinjuku to gain refuge from it all. As we walked around we saw a beautiful waterfall with fish and turtles there. Upon looking in, I realized that there were coins on the stones and in the water just as one would find in an American park. Even more interesting, it wasn't just yen. There were Chinese coins, German coins, Dutch coins, and even an American dime. There was something uniting and comforting in seeing this, to know that no matter where you went there were some actions that transcended culture. I added a coin from my pocket to the shining coins in the dark water and we walked on, ready to embrace the energy of the city.
I was attempting to recreate the wonder of finding commonality in the midst of all the strangeness by creating a familiar scene, but also honoring the culture that gave me the experience by using special paper to wrap around the piece. In Japan paper is used in various artworks and many traditional decorations and games involve paper of different compositions. The making of the different kinds of paper is an art form of its own, in fact. I wanted to try to incorporate this in to the piece. The thinness of the paper used to draw the image on, however, did not agree with the mounting glue. Just as the water it represented does, it got a touch ripply. I figure this way people can be assured it's an original, and this also embraces the Japanese notion of wabi-sabi, or "a little bit off" as being just as beautiful as perfection.
Materials: copic markers, water colors, modge-podge, a penny, cardboard, textured wrapping paper and possibly a bit of cussing.
Size: 5 inches by 7 inches
About the Artist: Helen Kaelin is a Jill of all Trades, master of very few. With her hands in painting, fiber crafts, drawing, photography and writing she rotates constantly to have time for it all and refines as she goes! Currently in school to become a programmer, she's using it strictly to pay for art supplies, film and yarn (and incidental things like food).
You can find Helen's work on DeviantArt under username Red1332.
Price: This piece is not currently for sale: There are great reasons to purchase Penny Experiment art. If you would like to purchase Wishing Pond #43 or other artwork from this 100 Penny Postcard Art series, please email me and I will put you on my list to inform when this series is for sale.