Who's Helping Who? — Jorge Dupont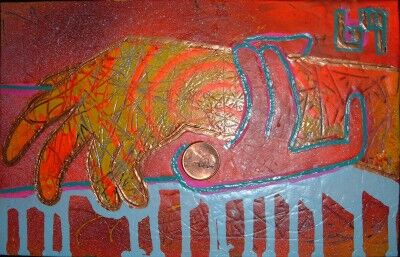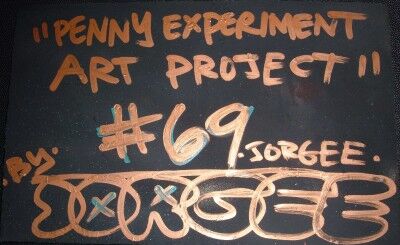 Inspiration / About the Art: Sometimes when you help someone or something, you in turn end up helping your own soul. Hands are special to me as they say a lot without talking.
Significance of the Number: I like to paint paintings that you can turn upside down and the painting still works, like the number 69.
Materials: Spray paint on top of a piece of flat stock aluminum.
Size: 5 inches x 7 inches
About the Artist: Jorge Dupont (aka "Jorgee") is a self taught gallery artist. His style is abstract with a Rock n Roll graffiti edge to it.
You can learn more about Jorgee and his artwork on his Myspace page. You can also find him on Facebook.
Price: This piece is not currently for sale: There are great reasons to purchase Penny Experiment art. If you would like to purchase Who's Helping Who? #69 or other artwork from this 100 Penny Postcard Art series, please email me and I will put you on my list to inform when this series is for sale.