"Well I Never…Mister Abraham Lincoln!" Translated to the Modern Vernacular as "Pimpin Lincoln" — Ezra Crow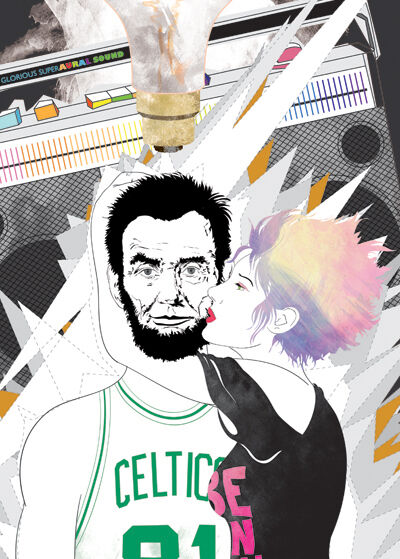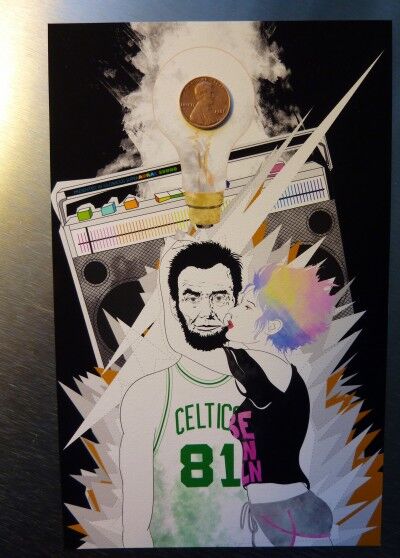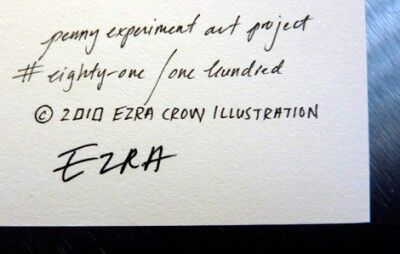 Inspiration / About the Art: Honest Abe is my inspiration for this piece — a man of mythic proportions with an identity that is a blend of truth and legend. A President for which history holds numerous anecdotes, all of which reveal a human with an ethos as earthy as that of John Chapman. Other than that, this piece was directly inspired by the following: 1) an article in the LA Times about the return of penny-pinching due to the recession, 2) Patrick Nagel's art, and 3) the 1981 Rolling Stone cover featuring Yoko Ono and John Lennon. This piece was brought to you by the number eighty-one.
Allusions and whatnot:
* I was born in '81.
* I love basketball, sports has a way of bridging emotional chasms, and the boston celtics won it all in 81. (diehard golden state warriors fan.)
* Lincoln's ascendants were from Massachusetts, thus the Boston jersey works quite well.
* In 81, big hair was in vogue.
* Patrick Nagel loved white skinned woman and high contrast lipstick.
* There is a picture out there of lincoln with some semi-bowie-esque hair.
* Boomboxes. Self-explanatory.
* Abe had some steely greys and a fantastic sense of humor.
* Big letters on shirts were big back then and so was NEON… and as fashion is recycled, they are big now as well. The shirt says:
ABE
LIN
COLN
* With the recession, penny pinching is back. Love of Abe is back.
* The background is black/charcoal much like Lincoln's suits and top hat.
* The 81 penny represents positive idealogy.
Materials: Illustrator to Photoshop. Printed to Photo Rag archival paper. Glued on penny.
Size: 5 inches x 8 inches
About the Artist: Ezra Crow loves crayons, but is always disappointed with his forays into fine crayon art.
To see and learn more about Ezra's artwork, you can explore EzraCrow.org.
Price: This piece is not currently for sale: There are great reasons to purchase Penny Experiment art. If you would like to purchase Well I Never…Mister Abraham Lincoln! Translated to the Modern Vernacular as "Pimpin Lincoln" #81 or other artwork from this 100 Penny Postcard Art series, please email me and I will put you on my list to inform when this series is for sale.