Year of the Tiger — Ashley Van Meter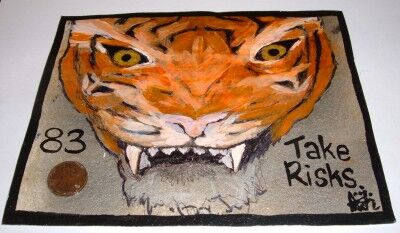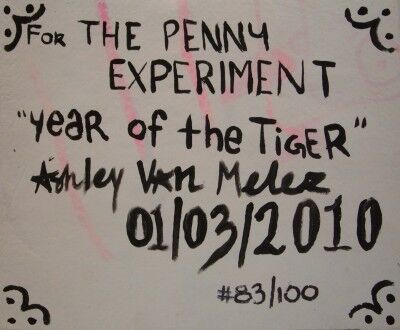 Inspiration: Penny Experiment has shown me and others that it is possible to take "nothing" and make something deep and valuable out of it.
This project risked embarrassment, failure, wasting time and probably plenty of other things that none of us have even considered. 2010 – the Year of the Tiger – begins February 14, 2010. According to the Chinese zodiac, this particular year will be the Metal Tiger. The element of metal helps with steely decisiveness and the Tiger gives courage to step up to risks. That is why I feel this piece is appropriate.
I hope that people can step up and take a risk this year by purchasing pieces of this Penny Experiment art.
About the Art: I took a major risk in stepping into this project. I have a great fear of deadlines, as I'm a perfectionist when it comes to my art. I used the Tiger's persistent yet careful energy to complete it. I was also born in the Year of the Tiger (1986)
Materials: Paper primed on back with gesso, Ink, Acrylic, Pastel, Colored Pencil, Spray Paint. Sealed with gloss medium.
Size: 5 inches x 6 inches
About the Artist: Ashley is from Seattle, WA. This area is beautiful with the mountains, ocean and wildlife. The rain makes everything flourish. I have a strong appreciation for color and life. I appreciate bold lines and vibrant colors. In my art, I want people to see the beauty in everyday life.
Price: This piece is not currently for sale: There are great reasons to purchase Penny Experiment art. If you would like to purchase The Year Of The Tiger #83 or other artwork from this 100 Penny Postcard Art series, please email me and I will put you on my list to inform when this series is for sale.