The Eye of the Story — Trudes Tango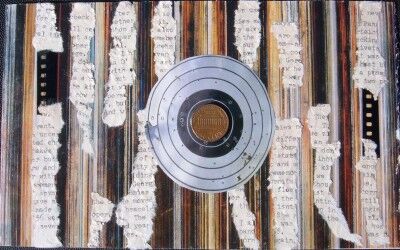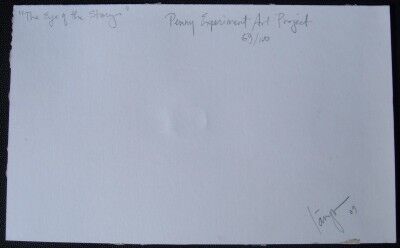 Inspiration / About the Art: The postcard, and the making of it, was very personal for me.
The significance of the number: The film negatives in the art represent the man I married, born in 1956, who is also an artist — a photographer.
Materials: I typed this story out on my typewriter, soaked it in tea, ripped it to shreds, and used it in the collage. The piece also contains cut up film negatives.
Size: 6 inches x 8 inches
About the Artist: Trudes Tango works with functional and sculptural ceramics, and mixed media collage. She has been working with clay for over 15 years.
If you would like to view more of Trudes artwork, you can at her flickr page tangopottery.
Price: This piece is not currently for sale: There are great reasons to purchase Penny Experiment art. If you would like to purchase The Eye of the Story #56 or other artwork from this 100 Penny Postcard Art series, please email me and I will put you on my list to inform when this series is for sale.