Recycled — Elizabeth Kertz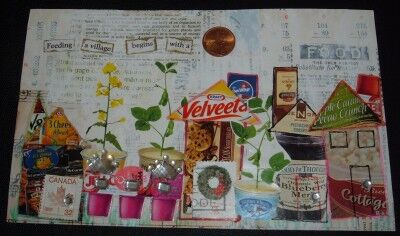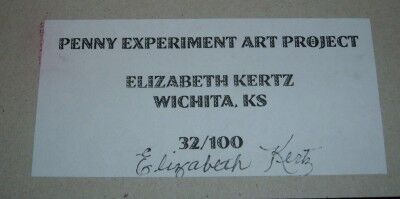 Inspiration: When I started thinking about this piece, two sayings kept coming to mind: "It takes a village" and "A journey of 1000 miles begins with a single step." By combining the two, I came up with the sentiment for this piece. After that, I used magazine food images and fruit stickers to represent images of the types of products that might be donated by a food bank and the village practically built itself.
About the Art: From the onset, this project screamed "recycle," something I like to promote whenever possible.
The significance of the number: Since I joined the project quite late, I requested the lowest number still available. Other than that, there was no significance for the number. It is represented in the two canceled postage stamps I used as doors.
Materials: Recycled cardboard, old book pages, magazine images of food, postage stamps, fruit stickers, gesso, glue, various pens, purchased cut glass crowns and stones, and a penny.
Size: 5 inches x 8 inches
About the Artist: Elizabeth is a mixed media artist and human factors consultant living in Wichita, KS. However, the consulting took a back seat once she found altered art and paper crafts in 2002. The majority of Elizabeth's art is made from recycled and found materials.
If you would like to learn more about Elizabeth's work, you can follow her blog Altered book Lover and at the yahoo group Altered Book Club.
Price: This piece is not currently for sale: There are great reasons to purchase Penny Experiment art. If you would like to purchase Recycled #32 or other artwork from this 100 Penny Postcard Art series, please email me and I will put you on my list to inform when this series is for sale.