Pengins — Christine Shinn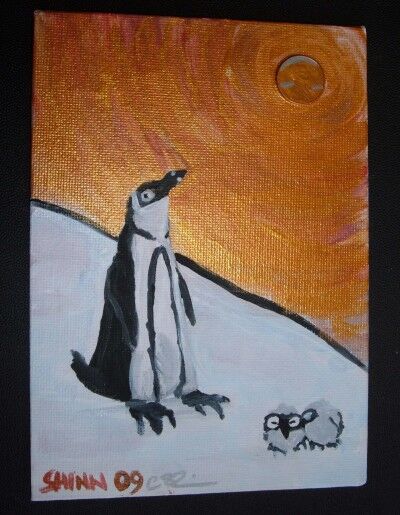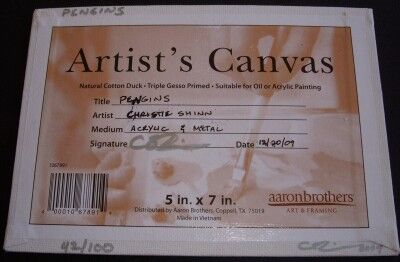 Inspiration: I was watching penguins on Dirty Jobs and I had this temporary fixation of them at the time. It could be the weather. It also reminded me of how people are introduced to them as kids, hence "Pengins", not Penguins.
About the Art: A contrast of the utter cold and stark, with the utter bright and warm. Besides, penguins make good art.
The significance of the number: RIP Douglas Adams, you did great work.
Materials: Artist's gesso board, acrylic, sharpie, and penny, of course.
Size: 6 inches x 8 inches
About the Artist: I like doing stuff that interests me. What is it? Just anything that is new and different to old and traditional. There has to be an interesting aspect to things, but not same old run of the mill. There, I've told you everything, and it denotes nothing. Basically, give it a try. Give it a go. At least once. You know you want to.
If you're curious to find out more information about Christine's artwork, you can visit her website at Christine Shinn.
Price: This piece is not currently for sale: There are great reasons to purchase Penny Experiment art. If you would like to purchase Pengins #42 or other artwork from this 100 Penny Postcard Art series, please email me and I will put you on my list to inform when this series is for sale.