I have added a new Coupons Needed section to Penny Experiment. These are high value coupons that can help you (or Penny Experiment) get food for pennies on the dollar. If they are something that you buy, please use them yourself. If not, please consider printing them for Penny Experiment so that we can get the food for local food banks (and if you are a coupon blogger, please consider participating). The latest coupon added is: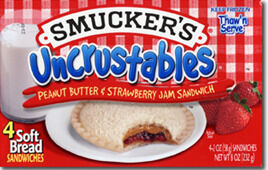 $1 off one Uncrustables (requires sign up)
The Uncrustables coupon is one that I have used with success to get a lot of food from Frozen Food month campaign for my local food bank. Please be sure to see if there are any other coupons that can help you or you can print for Penny Experiment.