My Two Cents — Kye Sangha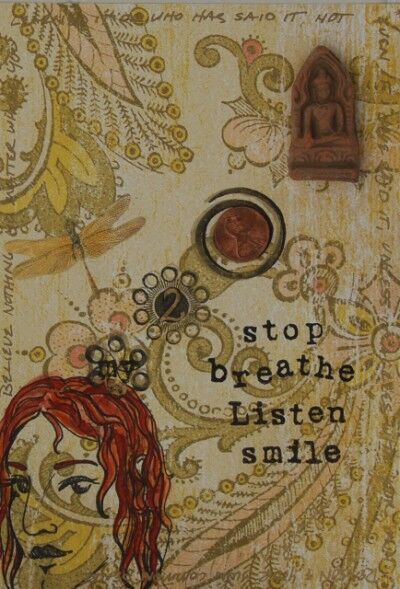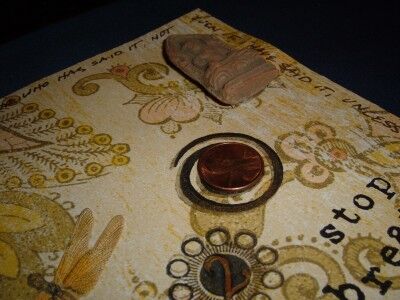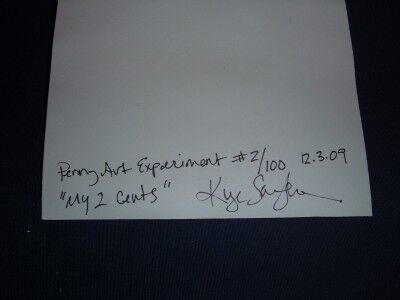 Inspiration: Everyone has an opinion, everyone has something to say. I happen to believe that no one should go hungry, but it's just a thought unless acted on.
About the Art: The most beautiful piece of advice I've ever encountered is this:
"Believe nothing, no matter where you learned it, or who has said it, even if I have said it, unless it agrees with you own self & your own sense of reason." ~Buddha
This quote can be found around the edges of the artwork
The significance of the number: I love the saying, "My two cents" & had a really good time playing with a comic book fueled expression of it.
Materials: Since this piece is all about what the woman is thinking, I started with rendering her face & painting her hair. I used stamping in black with gold overlay to portray the thought bubbles, & secured the Buddha piece. Lastly I wrote out the quote.
The materials consist of heavy duty watercolor paper, patterned scrapbook paper, a modern dragonfly sticker, a Buddha piece from Thailand. The woman is hand drawn & her hair is painted with acrylic paint. The border quote is hand written with gold paint.
Size: 5 inches x 8 inches
About the Artist: When I work in my studio late at night, it is usually with some surprise at the project that comes forth, & always with the secret, lofty hope that I am creating something that will become a moment of recognition to the person viewing it. As well as paint, I like to dabble in all manner of pursuits: I make memory boxes, altered books, sun-catchers, mobiles, cards… I love being a multi-media artist, with feathers & crystals & pounded old bottle caps all stored away in the studio with equal reverence. I adore ephemera & it helps to shape my work. Thanks for reading
If you're curious to see more information about Kye and her artwork, you can become a fan on Facebook at Dandelion Crown Studio or follow her on twitter at @KyeSangha
Price: This piece is not currently for sale: There are great reasons to purchase Penny Experiment art. If you would like to purchase My Two Cents #2 or other artwork from this 100 Penny Postcard Art series, please email me and I will put you on my list to inform when this series is for sale.