Making Wishes — Leyna Haller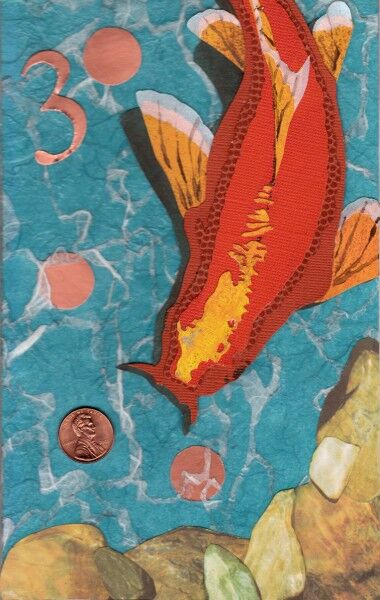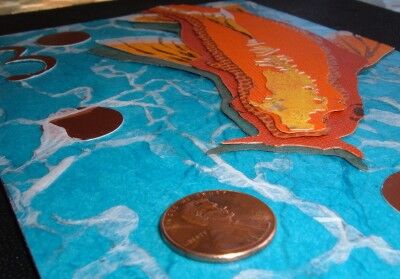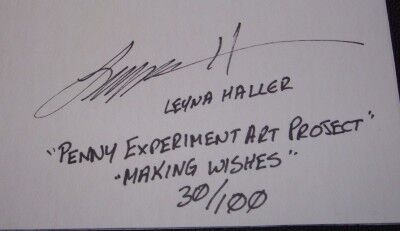 Inspiration: The inspiration for this piece came from thinking about the penny and how it could be incorporated into the work. I kept coming back to wishing wells and fountains, tossing in pennies for wishes. I like the idea that something as mundane as a penny can still carry a little bit of magic. The koi entered the picture when I started making sketches for the piece. I liked the way the colors would play between the koi and the penny, which is basically how it all came together.
About the Art: I believe that every art work reveals something about the artist.
The significance of the number: There isn't a lot of significance to the #30 other than the fact that I'm turning 30 this year and I have a lot of wishes for myself for this coming year.
Materials: I was inspired as far as the technique by the artist Brittney Lee. She does beautiful illustrations, as well as cut paper art. I used this as way to experiment with the medium. Almost the whole thing is made out of cut pieces of paper. The hardest part was cutting the "ripples" out of a white rice paper that I found. It's very delicate and easily rips.
Specifically I used: paper, craft glue, rubber cement, paint.
Size: 6 inches x 8 inches
About the Artist: Leyna Haller is a filmmaker and illustrator working in Ohio.
If you would like to view more of Leyna's artwork, you can at her new blog The Art of Leyna Haller.
Price: This piece is not currently for sale: There are great reasons to purchase Penny Experiment art. If you would like to purchase Making Wishes #30 or other artwork from this 100 Penny Postcard Art series, please email me and I will put you on my list to inform when this series is for sale.