One of the things that I am happy about with Penny Experiment is that food is being delivered to a lot of local food banks all over the country by the couponers. Madame Deals took their first load of groceries that they purchased for Penny Experiment to the Monticello Area Community Action Agency or MACAA: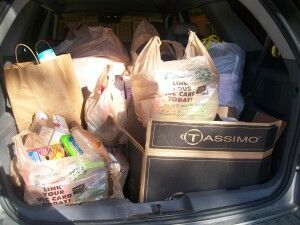 Not only are the couponers helping their local communities, they are also learning more about them:
I had the pleasure of meeting with one of our loyal followers, Mary, for coffee last week. Mary informed of the extreme poverty in certain areas of Fluvanna county. I had never been to the towns she spoke of. I really had no idea of the poor conditions that some people live in right in our backyards.
The only unfortunate part of the trip was that MACAA wasn't able to take one of the items that Madame Deals had purchased for them. Their facility only had a freezer so they were unable to accept refrigerated food like yogurt. So we have adjusted down the totals to reflect that Madame Deals purchased $90.42 worth of food for $12.80 instead of $95.32 worth of food for only $13.70. That means that the revised totals of what we have been able to buy for food banks is $387.99 worth of food for $35.83.
Although these are just the first baby steps, I'm so happy to see that the found penny has been able to deliver as much food as it has been able to thus far with hopefully a lot more to come.