In Mankind We Trust — Kelly Janice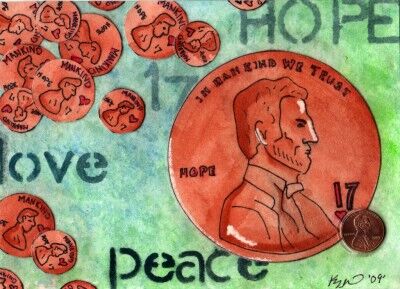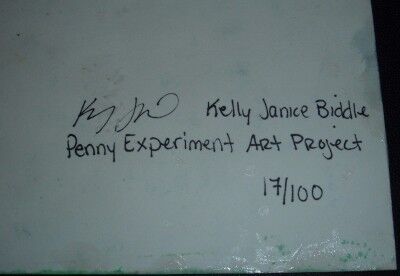 Inspiration: I was inspired by the actual project at hand. I find it so inspiring when people reach out to help others. The Penny Experiment is a perfect example of people with no connection working together for the good of mankind, hence the phrase "In Mankind we Trust" on the pennies in my piece. I wanted to create a piece representing the hope that things such as the penny experiment bring into my life. I am very proud to be a part of something as wonderful as this and hope that is reflected in this piece.
About the Art: I feel very strongly about god being mentioned on our money. If this country is meant to be a melting pot of all cultures and beliefs, people should not be alienated with the mention of god on something as important as our countries currency. I realize that religious freedom is the reason this country was founded, however, freedom of religion also means freedom from religion. Along with representing the good in mankind, I wanted to show that it is the people of our wonderful country that we should be putting our faith and trust into, not god.
On a more fun and personal note: along with the number 17 representing my daughter Sydney's birthday, I also chose a 2009 penny to represent the year she was born.
The significance of the number: I chose 17 because my daughter Sydney was born on the 17th of February 2009. The number and it's significance did not shape the art at all, but it was very important to me that the number I chose had a special meaning in my personal life.
Materials: Sharpies, tempera paint, Mod Podge, and a 2009 penny. I created this piece by making each of the pennies separately, stenciling the words in the background, and decoupaging the pennies to the background.
Size: 6 inches x 8 inches
About the Artist: For as long as I can remember I have wanted to be an artist. In Kindergarten we took a personality test that told us what we should "grow up" to be; my results were painter. When I first went to college I was a psychology/art major with the intention of becoming an art therapist. My dreams quickly changed when I realized I hated psychology. After that I picked up education and discovered the wonderful world of teaching. I graduated in 2002 and have been teaching elementary art ever since. It is wonderful to share your passion with children that get so excited to learn new information. I love teaching just as much as I love creating my own art.
I currently teach K-5 art and am in the process of receiving a Masters in art education through The Ohio State University.
If you're curious to find out more information about Kelly's artwork, you can see more at Kelly Janice. You may also follow her on twitter at @kellyjanice, on Facebook and on MySpace
Price: This piece is not currently for sale: There are great reasons to purchase Penny Experiment art. If you would like to purchase In Mankind We Trust #17 or other artwork from this 100 Penny Postcard Art series, please email me and I will put you on my list to inform when this series is for sale.