Give Hope — Sheena Katsios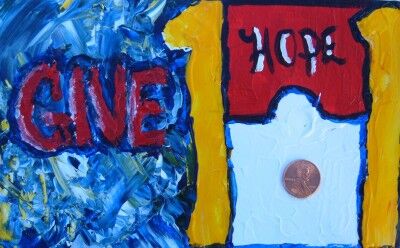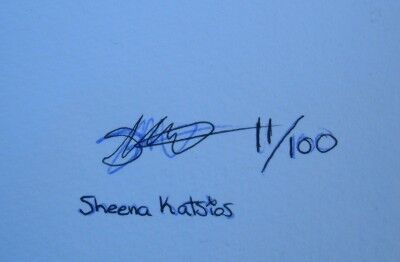 Inspiration / About the Art: Being largely inspired by pop art in all of the world that I do I took my inspiration from Andy Warhol's Campbell's soup can prints. It says 'give hope' because by giving donations of money and food you are giving hope to people less fortunate. I used primary colours to symbolize poverty, only using the basic colours; from these you can create every other colour that exists.
Significance of the Number: The number 11 is an extremely lucky number for me and keeps popping up everywhere in my everyday life so I thought it would be fitting to use this number for my piece.
Materials: Acrylic on Watercolour Paper
Size: 5 inches x 8 inches
About the Artist: To see and learn more about Sheena's artwork, you can explore her blog Art and Design.
Price: This piece is not currently for sale: There are great reasons to purchase Penny Experiment art. If you would like to purchase Give Hope #11 or other artwork from this 100 Penny Postcard Art series, please email me and I will put you on my list to inform when this series is for sale.