If you shop at Safeway this week (7/21 – 7/27), be sure to go to the dairy section to see if the Kraft shredded cheese has $1.00 off 1 coupons. If they do, pick up some free cheese for yourself and your local food bank. These coupons are in some stores, but not all. This is how the deal works.
Kraft shredded cheese (2 cups) is currently marked at $1.99 each or $9.95 for 5 packages. There currently is a Catalina coupon deal (these are the coupons that you get from the register after you pay) that is worth $5.00 toward anything on your next purchase: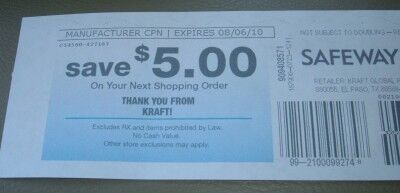 So $9.95 – $5.00 = $4.95
In addition, in some stores there are Kraft shredded cheese packages that have $1.00 off 1 peelie coupons stuck on them: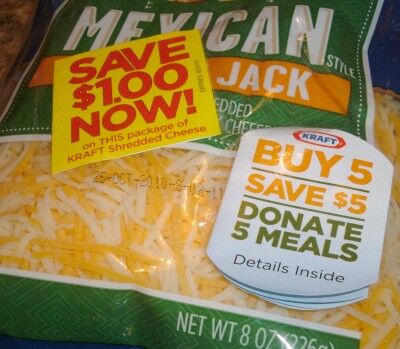 Use 5 of these coupons (one for each bag) which takes off another $5.00 and the cheese is free.
The best part of this deal is that even if you choose to keep the free cheese for yourself, you will still be helping to feed the hungry. That is because for every 5 packages that you buy, Kraft is donating 5 meals to Feeding America: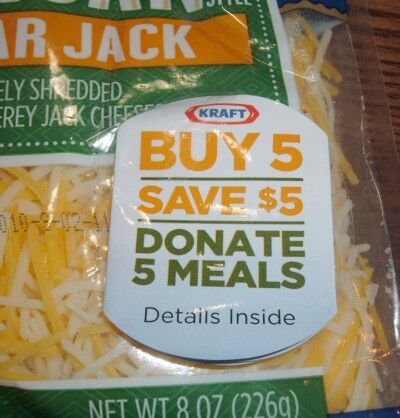 I ended up buying 15 cheese packages (I always leave plent so others can do the deal as well):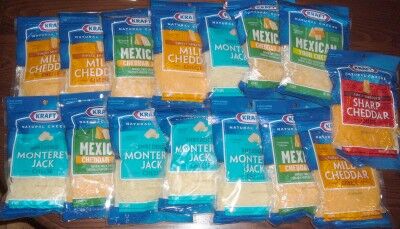 For a total cost of $0.07 (I also bought 2 tomatoes which I will give to the food bank to make sure the transaction were positive), I was able to get $53.05 worth of food: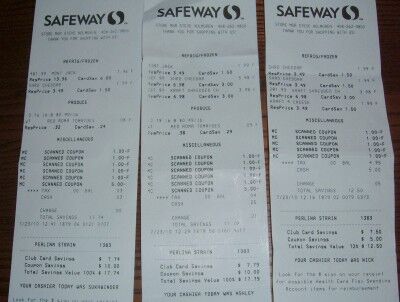 This cheese will be added to the growing Penny Experiment food purchased master list. With this latest food, Penny Experiment has purchased $13,777.44 worth of food for $576.06. This is another small step toward the ultimate goal of $1 million worth of food for food banks. There is now only $986,222.56 left to go…