Fortune 38 — Tahala Von Eissen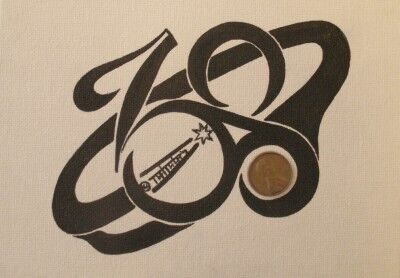 Inspiration / About the Art: Fortune 38; the Chinese number of luck and great good fortune, encompassed in the tail of a lucky shooting star… "If you wish upon a star…!"
Materials: The style used is a form of art I do called 'Tanja – Formulative Design', and also incorporates the structure content of my latest series called 'The Art of Affirmation' – a form of visual positive re-enforcement messages and/or symbols as interior decor.
Size: 5 inches x 8 inches
About the Artist: To see and learn more about Tahala's artwork, you can explore her blog and her website
Price: This piece is not currently for sale: There are great reasons to purchase Penny Experiment art. If you would like to purchase Fortune #38 or other artwork from this 100 Penny Postcard Art series, please email me and I will put you on my list to inform when this series is for sale.