Food for Thought — Julie Boydell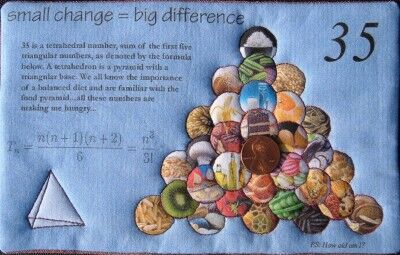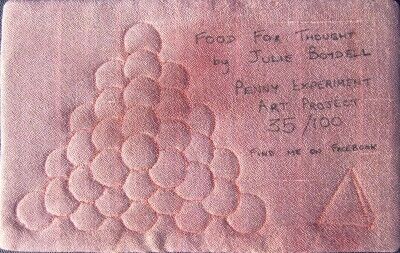 Inspiration / About the Art: Whilst looking into the number 35, I discovered that it is a tetrahedral number (sum of the first 5 triangular numbers; it's a maths thing). A tetrahedral is a pyramid with a triangle for a base and 3 sides, instead of a square base and 4 sides. Seeing as this project is about food, a food pyramid seemed the perfect subject.
The significance of the number: The number 35 is may age in 2009 when I created this.
Materials: Cotton fabric, cotton thread, batting, interfacing, distressed silk, pigment ink pen. To create the piece, I used the following methods: image manipulation (Photoshop), ink jet fabric printing, machine quilting, hand writing.
Size: 8 inches x 5 inches
About the Artist: Julie Boydell is a textile artist in Melbourne, Australia, who dabbles in a variety of techniques from traditional to modern, hand work to computer assisted. Recent achievements are being selected as a finalist in the 2006 Manningham Council (Melbourne) ArtWear Competition, the 2009 Australian Patchwork & Quilting and Australasian Quilting Convention Challenge.
If you would like to learn more about Julie's work, you can find her on Facebook.
Price: This piece is not currently for sale: There are great reasons to purchase Penny Experiment art. If you would like to purchase Food for Thought #35 or other artwork from this 100 Penny Postcard Art series, please email me and I will put you on my list to inform when this series is for sale.