If there is one thing that I have learned from Penny Experiment, it is that I will never pay more than $1 for a box of cereal again. In fact, I won't even consider buying cereal for Penny Experiment unless I can figure out how to get it for $0.50 a box or less. The reality is that with a bit of knowledge and using coupons, it's not nearly as difficult to do as you might imagine.
My latest trip had me buying 8 large boxes of Cheerios (7 multigrain cheerios and 1 regular Cheerios) which were a $35.92 retail value for $3.52 — or a savings of 90% at $0.44 a box (I can keep getting this wonderful deal as long as I have coupons – please consider printing some off for me)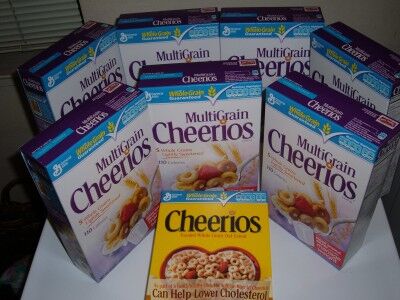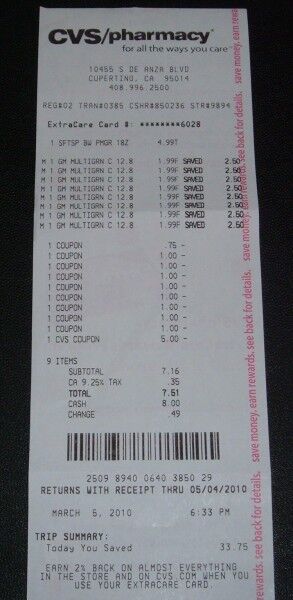 This purchase took a little creativity to get done, but it should be a system that I can use over and over again. CVS doesn't usually have the best prices when it comes to the marked price, but when combined with the other offers they have, the price of the food can come down significantly. This is what I did.
1. I had a rain check – last week all General Mills cereals were $1.99 a box. The problem was that they ran out in many of the CVS stores in my area. So I simply asked for a rain check meaning that I could get that price the next time they had stock (CVS rain checks never expire which is even better)
2. I had coupons: General Mills is sending out $1 off box coupons when you sign up at their site. I had $1 coupons that I could use.
3. I had a store coupon: I live in an area where drug stores abound and the competition is high. I can usually find a $5 off any purchase of $20 or more.
These three combined made for a great deal. The $1.99 a box was an average deal, but nothing I would ever buy. Add on the $1 off coupon and it brought the price down to $0.99 a box — a good deal, but still too high for me to buy. Add in an extra $5.00 off for a purchase of $20 or more and there are some real savings (this is called "stacking coupons").
To make it work, I needed to add something else to reach $20 (the 8 boxes only added up to $15.92 at their $1.99 a box price). Luckily, CVS had some body soap at $4.99 with $4.00 back making it only $0.99. Add in a $0.75 off coupon I had and the price was $0.24 plus tax, but it make it possible to get that extra $5.00 off. I included that in the cost of the Cheerios since I needed it to make the deal work, but I will also be donating the body wash to charity as well.
This cereal will be added to the Penny Experiment food purchased master list. Penny Experiment couponers (if you are a couponer, we'd love to have you join the effort) have now purchased $2138.11 worth of food for $241.95. Penny Experiment continues to take small steps toward the goal of buying $1 million worth of food for food banks, and we now have only $997,861.89 worth of food to go…