95 Wounds — Tricia Pinkert-Branner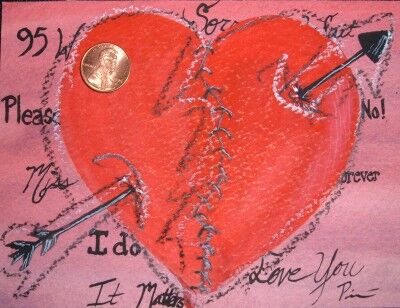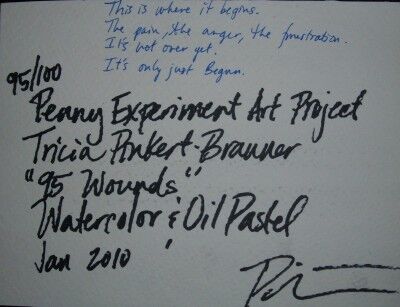 Inspiration / About the Art: I wanted to add to a sutured heart painting that I had created a decade ago. The piece symbolizes the desire to find love despite heartache or loss and the determination to keep love alive.
Materials: Watercolor and oil pastels
Size: 5 inches x 7 inches
About the Artist: Tricia Pinkert-Branner was born in Albany, Oregon in 1978 and grew up in rural parts of Idaho. She currently lives in Kuna, Idaho with her husband and two children. She works in clay, watercolor, acrylic and graphite and under glaze paint. She is always working on some type of art project, either for a gift or charity event. She has never sold any piece of art for personal profit, probably because she's too busy making things for other people.
Tricia's entire family is artistic in some way, most of them paint, while some sing or play instruments, so she supposes that she's genetically wired to love art. She has always enjoyed art and used to create miniature greeting cards and various drawings as a child to give as gifts to her family and friends. She studied pottery and drawing in high school and began painting her junior year in high school with under glaze paint in pottery class and using acrylics and oils in art class. She decided to take a watercolor class in college in 1996, because she wasn't very good at it and was frustrated that she couldn't figure it out.
Tricia fell in love with this new style of painting and would often get compliments from her peers on the projects she worked on. It was difficult style of painting for her to learn. She was used to working with acrylic paint and watercolor was so sensitive and unforgiving. She couldn't quite figure out how much water to use, so she chose to figure out her own method of painting. She used a lot of paint and very little water, painting lighter tones over the darker colors, and her instructor would always remark, "You paint like an oil painter". She still paints that way, though she has added light sketch marks in oil pastels to most of her paintings to make them look a little messier.
Tricia studied under Karen Donleavy for two years as a painter in her pottery studio, Karen Donleavy Designs in Caldwell, Idaho. She created designs for her pottery line that Karen still uses today. Karen's artwork is sold worldwide and each piece is hand crafted and painted by trained artists and potters. You can visit her website and view all of her ready-made pieces or order personalized dinnerware or functional pottery pieces.
This year will be Tricia's 7th year participating in the "Valentine for Aids" benefit at the Flying M Coffeehouse in Boise, Idaho. The silent art auction raises money for S.N.A.P., Safety Net for Aids Program, and offers financial assistance to individuals living with HIV and AIDS. Last year I had the highest bid of $600 for a watercolor piece featuring The Record Exchange, a downtown Boise landmark. The painting was exhibited in the Idaho Statesman alongside other contributing artists' work. You can read about the auction here. She am currently working on her art piece which will be auctioned off in February 2010. You can find more information about the event at Flying Coffee.
Tricia have contributed handmade and hand painted soup bowls to the "Empty Bowls" benefit in Boise, Idaho. This yearly event features the work of hundreds of local artists who submit painted and glazed bowls for public sale. A bowl can be purchased for about $10 and includes a bowl of gourmet soup from a local restaurant. The proceeds of the art sale go to the Idaho Food Bank to purchase goods for the needy. The event is typically held each year before Thanksgiving.
Price: This piece is not currently for sale: There are great reasons to purchase Penny Experiment art. If you would like to purchase 95 Wounds #95 or other artwork from this 100 Penny Postcard Art series, please email me and I will put you on my list to inform when this series is for sale.