It is always great news to hear that another Penny For Your Thoughts book has been launched into the world (please consider launching a book of your own). The latest to make its way into the world is book #29: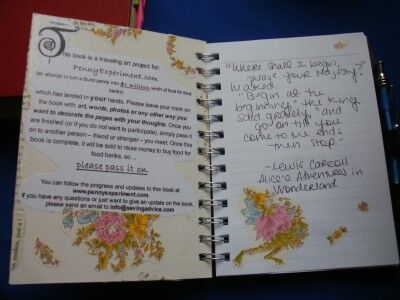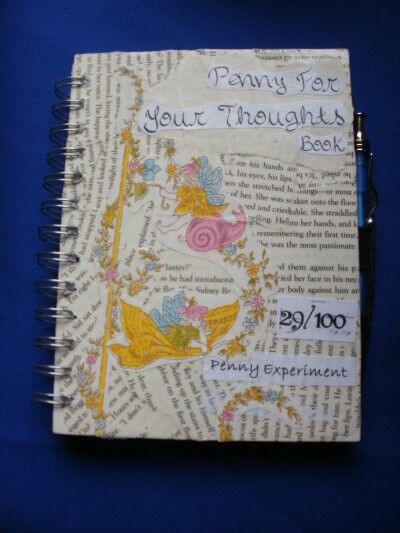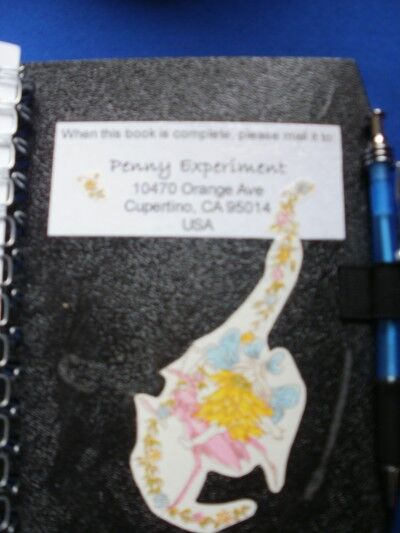 This is what Stephanie Falcon, who launched the book, had to say about creating the book:
One of the reasons I was delayed in launching the book was that I couldn't find the "right" notebook to make it out of. I had something really specific in mind and I just wasn't finding it. In the end I settled on a composition notebook.

I wanted to do a decoupage and I just wasn't feeling inspired by the comp. notebook. It sat in my backpack, waiting. After a while I came across a promotional item that was being given away at school. It was a little notebook. It had huge spirals and a very sturdy cover. I thought that this was the perfect notebook. Not only physically, but it was a free item, which fits the whole ideology of the Penny Experiment. Even the notebook pages were made of recycled paper.

I decided to continue with the recycling theme. I dug through my "scrap" paper drawer (I keep everything!) and found some lovely vintage wrapping paper scraps, and pages from a random found novel that were leftover from another project. The whole notebook was made of free and handy materials.

The aesthetic inspiration came from Alice in Wonderland, since I recently saw it in the theater. I wanted it to have a Victorian and whimsical feel.

I passed it on to a school friend of mine and already several people want the book next!
It is always interesting for me to hear how each person imagines the book that they launch and I am curious to see if that influence stays with it through its completion of if every person makes their own unique imprint with it. I am excitedly waiting to hear about the book during its journey and seeing it when it finally arrives to me…