One of the many surprises that I have had since beginning Penny Experiment is the number of people outside the US that want to participate. It happened with the penny postcard art and it happened again with the Penny For Your Thoughts books. The latest book was launched on the other side of the Atlantic Ocean by Alison Townley: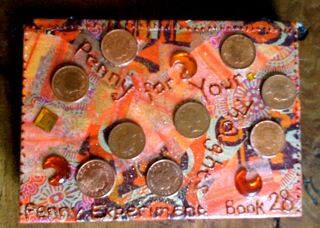 Penny for Your Thoughts Book 28 was launched on Friday, 20th March 2010 in Shipton under Wychwood, a small village in the Oxfordshire Cotswolds. We look forward to tracking its progress and hope it makes its way back to Cupertino for the auction.

The design of book 28 includes 22 British pennies, one minted each year that I have been in the UK – from 1988 when I arrived just out of college with a six month student visa and a three month Eurail pass – to the present, where my family and I are happily ensconced in a picturesque village in the English countryside.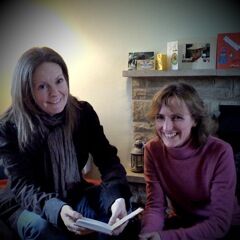 Fran Dawkins and Becky Jones at the launch of Book 28
While nervous whether or not the books launched in the US will eventually make their way back to me, the books starting in other countries create all the more anxiety. On the other hand, it will give a truly unique and international feel that truly excites me. I have my fingers crossed and can't wait to see how this book may differ from the others…