I decided this past week that I needed to be more than a cereal king when it comes to couponing. I had been resisting learning how the whole CVS drug store system works because it looked rather complicated and it seemed most of the deals were for non food items which wouldn't help the Penny Experiment goal.
It took a few hours of reading (and rereading) to where I felt I finally had a good graspe of how the CVS system works and immediately understood why so many couponers love to shop at this store. Basically, it is quite possible to earn money shopping there if you pick what you buy carefully. While most of these deals are not on food items, they can be turned into low cost / free food with a little creativity.
My first shopping trip was to actually get some things I needed to buy for myself to test if I truly understood the system and to gain my confidence. I wasn't planning to do any shopping for Penny Experiment since I was going to use all the purchases myself. When I had what I wanted, I realized the total came to about $16 and I had a coupon for $5 off a purchase of $20 or more. It was a no brainer – I could basically buy $5 worth of food for Penny Experiment for free and this is what I got: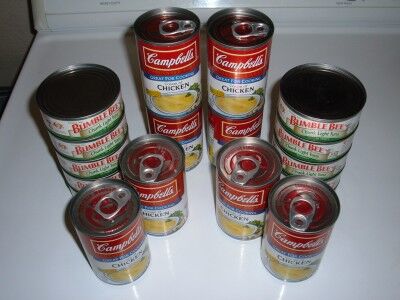 (10) Bummble Bee Tuna cans
(8) Campbell's Soup cans
Bumble Bee tuna was on sale for $0.49 per can and I had two coupons for $1 off 5 cans. Campbell's soup was also on sale for $0.49 and I had two coupon for $1 off 4 cans. That meant the 10 cans of tune were $2.90 and the 8 cans of soup were $1.92 for a total of $4.82. This put me over $20 for the purchase meaning I could use the $5 off $20 coupon making the purchase of these free.
The original retail price of the tuna was $1.19 and the original price for the soup was $1.39 meaning that I was able to buy $23.02 worth of food for free. These will be added to the Penny Experiment food purchased master list. Penny Experiment has now purchased $1722.40 worth of food for $205.13. This is another tiny step to the goal of buying $1 million worth of food for food banks, and leaves Penny Experiment with $998,277.60 worth of food to go…