Another Milestone — Katherine Thomas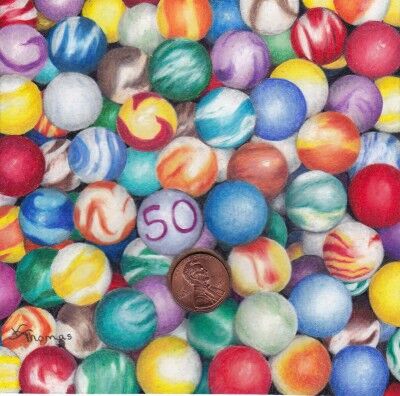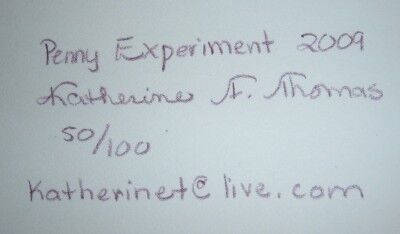 Inspiration / About the Art: I chose a collection of marbles to portray this number, because 50 is a common milestone, and marbles are beautiful stones. In honor of the original 100 pennies in the Penny Experiment, there are 100 marbles in this piece. Each one is unique, and each offers its own special contribution to the group. Much like people: each of us is unique, and each offers something special to the group.
Significance of the Number: The number 50 was chosen for personal reasons. I will reluctantly turn 50 soon, and am struggling with the usual mid-life uncertainty. But, participating in the Penny Experiment has given me confidence and a new sense of purpose. I am so glad to be part of this project!
Materials: Colored Pencil
Size: 5 inches x 5 inches
About the Artist: Katherine Thomas is a teacher and enjoys working with colored pencil.
You can see and learn more about Katherine's work at her blog Katherine Thomas. You can also contact her by email and follow her on twitter under the name @BeKatherine
Price: This piece is not currently for sale: There are great reasons to purchase Penny Experiment art. If you would like to purchase Another Milestone #50 or other artwork from this 100 Penny Postcard Art series, please email me and I will put you on my list to inform when this series is for sale.