100 Pennies United for Meals "Currency" — Chris Hammer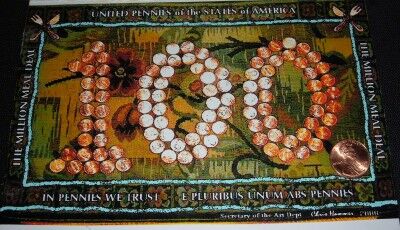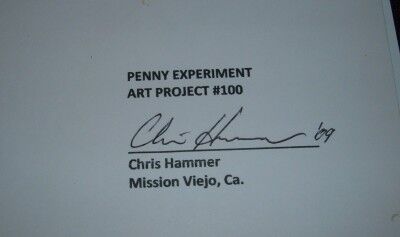 Inspiration: Food Stamps, Old Hawaiian style paper money
About the Art: A few penny types and US Dollar mottoes
The significance of the number: I used 100 US Pennies, the brightest one in the last 0 is a wheat back penny.
Materials: Photographed and computer printed.
Size: 5 inches x 8 inches
About the Artist: My Birth was in 1959, the 1st year of the Lincoln Memorial back penny. I don't consider myself a "professional" artist. I simply like to create pictures. I'm pretty political, Pro-Peace / Anti-war and do some signs & pictures.
If you're curious to see more information about Chris' artwork, you can see more at LPrevolt or follow on twitter at @LPrevolt
Price: This piece is not currently for sale: There are great reasons to purchase Penny Experiment art. If you would like to purchase 100 Pennies United For Meals Currency #100 or other artwork from this 100 Penny Postcard Art series, please email me and I will put you on my list to inform when this series is for sale.