With all that has been going on, I haven't been able to spend a whole lot of time promoting the Penny For Your Thoughts books that I have asked people to launch. Despite this, people continue to trickle in wanting to participate and launch the books to the point where 25% of the 100 numbers have been taken.
The latest book to launch was one put together by Susan Heim who writes the blog Susan Heim on Parenting for Penny For Your Thoughts Book #6.
Susan's interest in launching a book was not in the artistic portion of creating a book which has dominated the books up to this point, but the writing part. She chose to launch a book already ready to go which features author Charlotte Brontë's signature embossed on the front, along with an excerpt from her famous novel, Jane Eyre, reproduced in her own handwriting.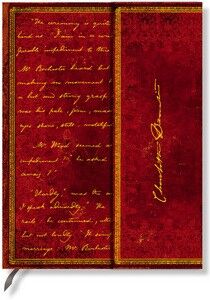 Her plan is to include her favorite "writer's quotes" and pass the book on to other writers to fill in the pages. I think it's a wonderful idea and will give a new twist on what others can do with their books if they choose to participate. I can't wait to see how this book ends up being filled when it finally arrives back to me.
If you would like to launch a book of your own, please contact me and I will get you a number. There are also a lot of other ways that you can participate whether you are artistic or not.